You ask people who their favourite footballer is, and the usual names that come out of the hat are Messi, Ronaldo, Ronaldinho, Zidane and the perennial Beckham. You ask me who my favourite footballer is. There's only one name I will tell you. Thierry Henry. TH14. The King of Highbury. Arsenal Legend.
The official Twitter handle of the Indian Super League (@IndSuperLeague), asked its fans to describe their favourite Thierry Henry moment. Come to think of it, this is a very tough ask. Cherry-picking one moment out of so many, is nearly an impossible task for me. I mean, this man has given me and my fellow Arsenal fans countless moments of magic. 228 goals, in 377 games. And each one a beaut.
Here are my 14 best Thierry #HenryMemories
Who can forget that magical night at the Bernabeu, when Henry strode past several Galacticos defenders? I remember watching that match, it was well past midnight, and I woke up the entire house.
A swivel and turn against Chelsea left the Blues with really no chance at all.
Or when he fooled a bunch of Liverpool defenders to score a beauty against Liverpool, when at one point it seemed like the title was slipping away from us.
Do you remember that time when Denis Irwin didn't realise that a wily Frenchman had bamboozled him?
How about when the best goalkeeper in the world, Gianluigi Buffon stood absolutely no chance?
Remember when he made the Tottenham fans cry and got himself a statue of that moment? Oh my word, what a goal that was!
You absolutely cannot cannot forget that cold night in Prague, when Thierry wrote himself into Arsenal books as their record goalscorer.
Javier Zannetti had no chance when Thierry was on fire in Milan. He scored a cracker when he ran the length of the pitch, beat the Argentine and slotted the ball home.
It all started on a balmy evening at Southampton's old ground – The Dell.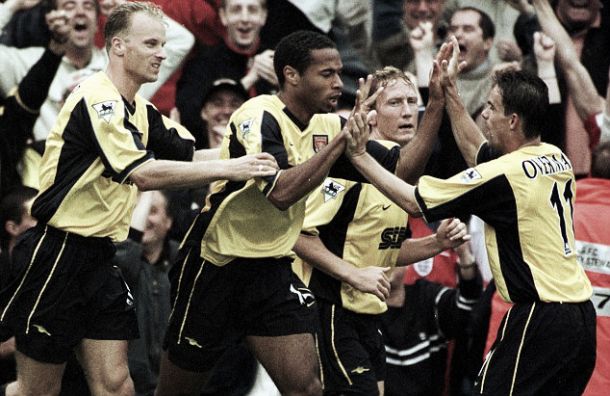 That late late header at the Emirates against Manchester United. I screamed like there was no tomorrow. Henry doesn't score too many headers, and when he does, it's like this!
Electrifying, electrifying – These words still ring in my ears, for that goal against Leeds, back in 2004!
Remember that blazing shot against the rain and wind against Manchester City! That was simply majestic.
To cap it all off, he signed off from Highbury with a penalty kick and a kiss of the turf in front of the North Bank. The most iconic Thierry Henry moment.
You thought he was gone, and then he came back to score a goal in the most Thierry Henry style possible. Called for another unbelievable night of late night shouting 😀
So, there you go! My 14 favourite Thierry Henry moments for Arsenal!
Here's a picture of me trying to be Thierry Henry, way back in 2009 at the Emirates Stadium 😀
Jai Arsenal 🙂